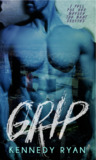 Grip by Kennedy Ryan
My rating: 5 of 5 stars

5 starts and more!!



"I voluntarily reviewed an Advance Reader Copy of this book."
I don't have words to describe how I felt while I read this book, I was like in a roller coaster. Grip is a book with a full pack of feelings, and with a complex and developed plot and characters, all of them make this book a wonderfull reading tthat will keep you reading, because with this one chapter more isn't enough.
This is the kind of book that reach until the deepest of your heart.
This book has a prequel, Flow, you should read it, so you will be able to understand Grip
♫♫♫♫♫♫♫♫♫♫♫♫♫♫♫♫♫♫♫♫♫♫♫♫♫♫♫♫♫♫♫♫♫♫♫♫♫♫♫
No tengo palabras para describir como me sentí mientras leía este libro, estaba como en un montaña rusa. Grip es un libro con un paquete completo de sentimientos, con una trama y personajes complejos y desarrollados, todos ellos hacen este libro una lectura maravillosa que te mantendrá leyendo, porque, un capítulo más no es suficiente.

Este es el tipo de libro que llega hasta lo más profundo de tu corazón.

Este libro tiene un precuela, Flow, deberías leerla, así serás capaz de entender Grip
View all my reviews